KnowBe4, the provider of the world's largest security awareness training and simulated phishing platform, today announced its partnership with the Pinellas Education Foundation for their Enterprise Village initiative.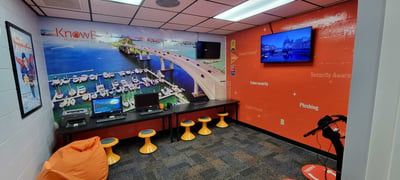 For over 30 years, Enterprise Village has provided a hands-on learning experience for the fifth grade students of Pinellas County. The economic education program takes place during the school year and is available for students to visit 6 weeks after they begin learning economic education objectives in their classrooms including how to write checks, use a debit card, apply to a job and more. The students have the opportunity to apply their knowledge at the village which is set up similarly to a shopping mall and work at one of the many businesses and participate as a consumer by making purchases in a business-sponsored storefront.
Through its partnership with the Pinellas Education Foundation, KnowBe4 will have a storefront at Enterprise Village for students to gain working experience in roles including a director of fun and shenanigans, a sales representative, an IT support specialist and more. Additionally, the KnowBe4 storefront will feature an arcade for students to explore during their breaks featuring the fun and interactive KnowBe4 game, "Password Zapper", to learn about password safety and have the opportunity to win a prize.
"KnowBe4 is thrilled to partner with the Pinellas Education Foundation to support Enterprise Village this year," said Kelly Barrena, VP of global talent brand and outreach, KnowBe4. "As a Tampa Bay native, I had the privilege of participating in Enterprise Village as a child and it remains a positive and fun core memory for me. KnowBe4 looks forward to our ongoing partnership as an opportunity to raise cybersecurity awareness for the students of Pinellas County and to support our local community."
For more information on KnowBe4's community involvement and more, visit https://www.knowbe4.com/careers/community-involvement.
For more information on Enterprise Village, visit https://www.pcsb.org/domain/12708.