KnowBe4's CEO Stu Sjouwerman has won a Glassdoor Employees' Choice Award honoring the Top CEOs in 2019. Glassdoor, one of the world's largest job and recruiting sites, released its annual award recognizing the Top CEOs, which highlights top leaders that employees love working for in countries throughout North America and parts of Europe.
Among chief executives recognized by employees of small and medium sized businesses in the U.S. Sjouwerman received an impressive approval rating based on the anonymous and voluntary reviews KnowBe4 employees shared on Glassdoor throughout the past year.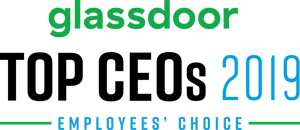 "I'm incredibly humbled to be recognized as one of Glassdoor's top CEOs," said Sjouwerman. "These awards are based on feedback given by the employees directly, which is why it's that much more meaningful to me. It's always been my goal to be the best boss anyone has ever had and with this award, I aspire to be just that to my 700 plus employees."
"It's an honor to recognize incredible leaders who, from their employees' perspectives, exemplify exceptional vision, trust and communication. Glassdoor's Top CEOs award continues to be more competitive every year, and I congratulate each leader on their achievement," said Christian Sutherland-Wong, Glassdoor president and chief operating officer. "Today's job seekers are looking for leaders who share their values and will empower them to bring their full selves to work. More and more, we're seeing Top CEOs make decisions to shape the culture of their organizations to help recruit and retain quality talent, which has a direct correlation to fueling business success."
When employees submit reviews about their company on Glassdoor, they are asked to rate various factors about their employment experience, including their overall satisfaction and other workplace attributes like senior management. As part of these ratings, employees are also asked to rate whether they approve, disapprove or are neutral about the job their CEO is doing. Among the approximately 900,000 companies reviewed on Glassdoor, the average CEO approval rating is 69 percent.
Glassdoor's Top CEOs in 2019 were determined using company reviews shared by U.S. based employees between May 2, 2018 and May 1, 2019. The final list is compiled using Glassdoor's proprietary algorithm, led by its Economic Research Team, and takes into account quantity, quality and consistency of reviews.
For the complete list of all Glassdoor Top CEOs winners in 2019, please visit: https://www.glassdoor.com/Award/Top-CEOs-LST_KQ0,8.htm