(Tampa Bay, FL)  October 4, 2016 – KnowBe4, provider of the most popular platform for security awareness training and simulated phishing attacks, today announced a new integration with Active Directory (AD). Organizations must continue to make security a high priority while managing workload of their IT staff, and KnowBe4's new Active Directory Integration (ADI) helps them meet this goal. Now IT managers can easily upload user data and eliminate manual updates by automatically synchronizing AD user information with KnowBe4's platform.
 "Cybercrime has gone pro and businesses that do not proactively work to train their employees to identify and avoid exploitations will be successfully hacked," said Stu Sjouwerman, CEO of KnowBe4. "Our goal is always to help users grow in education and reduce ransomware and phishing attacks. By integrating with Active Directory more users can experience KnowBe4's training modules and protect their organizations from ongoing cyber threats that continue to gain in sophistication and frequency."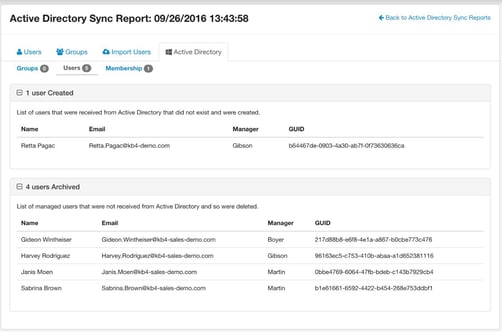 Active Directory Integration Benefits:
Efficient Synchronization: KnowBe4 syncs with AD via a lightweight service located within the client's network. This service allows for the automatic creation, modification and archival of users in the KnowBe4 console;
Easy User Management: IT Managers can easily upload user data and save time by eliminating the need to manually manage user changes. Once the ADI is configured users will be added, changed and archived in sync and automatically reflected in AD. Users can also be uploaded via CSV files;
Enterprise-Strength Reporting: Exportable reports provide geo-location of failures, improve decision-making and reduce security risks across the whole organization. Reporting helps maximize training ROI and track security compliance.
 "It was a nightmare for us to keep with the constant user account additions and deletions," said Elizabeth Merriken, IT security manager for the City of Cap Coral ITS Department. "KnowBe4's Active Directly Integration makes the administration of users seamless. We absolutely love it."
 KnowBe4's new school approach to security awareness training offers web-based interactive trainings designed to engage users and provide them with opportunities to continually test their knowledge. Simulated phishing attacks, case studies, demonstration videos and tests are combined with real-world scenarios to help employees understand the mechanics of spam, phishing, malware and social engineering including CEO fraud. The service is launched quickly through KnowBe4's cloud-based infrastructure with little expense and low risk.