Woburn, MA – March 22, 2023 – Kaspersky has released new survey results showing that one third of crypto owners in the U.S. have experienced theft of their currency or other assets, at an average cost of $97,583. This, and other findings, are part of a new report, "Crypto Threats 2023," based on a survey of 2,000 American adults in October 2022.
Crypto trading has skyrocketed in popularity in recent years. Twenty-four percent of respondents to the survey said they currently own cryptocurrency or other crypto assets. However, scammers are continuously seeking new ways to capitalize on that popularity and defraud users, with tactics such as impersonating legitimate exchanges or launching phishing attacks to steal login credentials. They also use cryptojacking malware to generate currency by stealing computing resources from unknowing victims.
A third of respondents who said they own or have owned cryptocurrency or other crypto assets said they have fallen victim to a fraudulent crypto-related website, app or investment scam at some point. Among those victims, 19% said they experienced identity theft as a result, while 27% had payment details stolen and money taken from their bank account.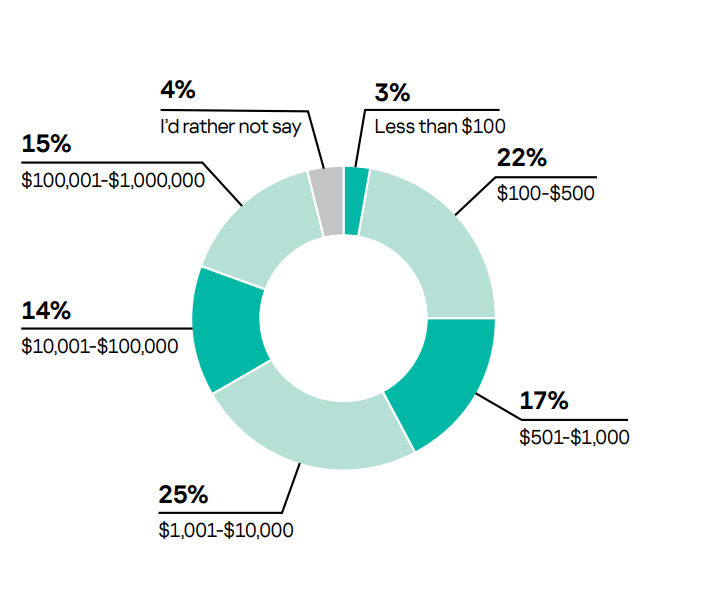 Victims of crypto theft report the value range of the loss they incurred
"From fake apps to cryptojacking, there is a long list of threats lurking online to target cryptocurrencies," said Marc Rivero, senior security researcher at Kaspersky's Global Research and Analysis Team. "Without any regulation or established common knowledge, people need to take care to protect themselves. This survey data shows a lot of people are getting their crypto stolen and even experiencing identity theft. Users should keep a close eye out for scams, and should employ any extra security measures that are available to them, such as multi-factor authentication."
The survey revealed that there is often more users could be doing to protect their crypto assets. On average, respondents said the last time they checked on their crypto investments was six weeks ago. Twenty-seven percent of users said they keep their crypto stored in an exchange account with no added protection, while only 34% use multi-factor authentication to protect their account. Only 15% of users said they use a "cold wallet," storing their crypto in external storage not connected to the internet. Thirty-two percent of respondents who own or have owned cryptocurrency or other crypto assets said they have lost access to a crypto-related account at some point.
The survey also yielded some interested findings with respect to age differences among crypto traders. Thirty-six percent of respondents aged 25-44 said they currently own cryptocurrency or crypto assets, compared to just 10% of respondents aged 55 and up. Older respondents who do own crypto, however, appeared to be doing a much better job at protecting their assets. Just 8% of crypto owners aged 55+ said they have had cryptocurrency or a crypto asset stolen, and only 14% in that age group said they have fallen victim to a fraudulent crypto-related app, website or investment scam. Meanwhile, nearly half (47%) of crypto owners aged 18-24 said they had been victimized by theft, with 46% saying they've fallen victim to a scam.
The full report is available here.
In order to avoid falling victim to cryptocurrency-related scams, Kaspersky recommends:
·       Use strong and unique passwords for each of your crypto accounts. This will help prevent password cracking and brute force attacks.
·       Avoid phishing attacks: Be wary of suspicious emails and links, and always double-check the URL before entering your login information.
·       Don't share your private keys: your private keys unlock your cryptocurrency wallet. Keep them private and never share them with anyone.
·       Use security solutions: a reliable security solution will protect your devices from various types of threats. Kaspersky's consumer portfolio prevents cryptocurrency fraud, as well as unauthorized use of your computer's processing power to mine cryptocurrency.
Additional Resources:
·       Survey Report: Crypto Threats 2023
·       Blog post: Crypto threats: are your assets secure?
·       January 2023 global survey, "Crypto promises versus expectations"