Woburn, MA – November 12, 2020 – New research commissioned by Kaspersky has revealed that 82% of employees in the U.S. want to reconsider pre-COVID-19 ways of working. Instead of returning to business as usual, workers are now placing more importance on a flexible work day, with 40% responding that they want to leave behind the 9-5 working structure, and 37% saying they would like to end the five-day work week. Similarly, 40% said they no longer wish to sit at assigned desks or spaces.
Moving forward, employees are reimagining a new normal for work that offers more agile, accommodating and humane work cultures. When it comes to their shifting priorities, survey respondents said that the top three areas where they would like to see more flexibility in their work cultures include spending more time with loved ones (39%), saving money (38%) or the ability to work from anywhere (35%).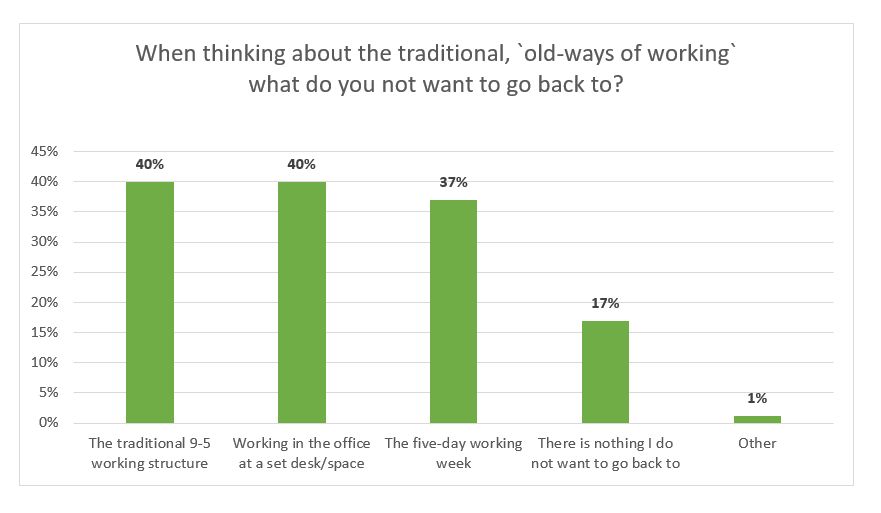 As employees continue to embrace more forward-thinking and flexible ways of working, it is critical that businesses augment and adapt the support they provide. Given that over a third (38%) of the global workforce actively seeks more technology support from their organization when working remotely, the need to provide the tools and technology to keep users productive, connected and secure has never been greater.
"We are facing a defining moment in time, and this is very exciting," said Alexander Moiseev, Chief Business Officer at Kaspersky. "It's clear this pandemic has accelerated digital transformation and the blending of our work and homes lives. What we're now seeing is employees using technology to own a new future, and actively taking the lead in embracing changes in pursuit of greater freedom and flexibility. Companies now have a mandate to adapt and remodel the modern workplace into something more productive, sustainable and malleable."
To help organizations keep their flexible workforces secure, Kaspersky suggests following these recommendations:
Empower employees to become more cyber-aware. Whether you're working from home or in a café, remote working inspires a completely new shift in the behaviour and mindset of employees.
Take key data protection measures to safeguard corporate data and devices, including switching on password protection, encrypting work devices, and ensuring data is backed up.
Build security inside and outside of the office. Securing employees at their desks or on the go regardless of the device they're using is now easier than ever through solutions such as Kaspersky Endpoint Security Cloud.
The read the full report, 'Securing the Future of Work', please visit here. To find out more about Kaspersky Endpoint Security Cloud and how it can deliver robust protection against evolving threats, visit the website.
Methodology
Kaspersky commissioned independent research firm Censuswide to conduct a survey of 8,076 employees of small-to-medium businesses (10 – 250 employees) in Brazil, Belgium, China, France, Germany, Italy, Japan, Luxembourg, Malaysia, Mexico, Netherlands, Russia, Spain, South Africa, Turkey, UAE, UK, and U.S. in October 2020. Of the total number of respondents, there were 501 participants in the U.S.